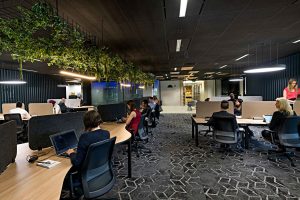 As our society changes, the workplace evolves too. Coworking is booming around in the world and it's changing the lives of professionals worldwide.
It has endless benefits. Here are the top 3 benefits you can experience at Victory Offices coworking:
1. Flexibility
Victory Offices coworking means flexibility. It is extremely easy to scale up to a shared or private office as your business grows. You can tailor your contract to suit a one-person business or a company of many.
With 24/7 office accessibility, it has never been easier to dictate your terms of work. You can choose to work in a quiet space so you can focus on your deadline, or in a more collaborative space. You also get access to meeting rooms and even Victory Lounge!
2. Work/Life Balance
After a certain period of working from home, you can feel isolated, which can lead to loneliness and procrastination and affect your business.
Victory Offices coworking is an excellent fix. It's an easy and low-cost way to separate your home and business life. Stay inspired and motivated by surrounding yourself with fellow entrepreneurs and become a part of something bigger – a community.
Our 6-star staff know our members by name and industry, and we're constantly encouraging a collaborative environment.
3. Networking Opportunities
Coworking is a daily opportunity to network with other business owners, fellow entrepreneurs and like-minded innovators, not to mention that you are surrounded by potential clients or even partners!
Victory Offices encourage networking opportunities by running numerous events to suit your every mood, from networking nights and workshops delivered by industry leaders to fun-filled trivia nights and happy hours. And all our events are COMPLETELY FREE!
Don't miss your next opportunity to network – check all our upcoming events here.
It's time to take the next step and grow your start-up, freelance gig or side hustle! Exclusive to the Women of Whitehorse, we have exclusive offers for our virtual offices and coworking spaces at Box Hill.
Not sure yet? Book your tour today or join us for the next open coworking day and experience the Victory Difference for yourself!
Don't forget to follow us on LinkedIn, Instagram, Facebook and Twitter to stay up to date with our latest events and promotions.
Have a question? Visit victoryoffices.com.au or give us a call on 1300 788 292.