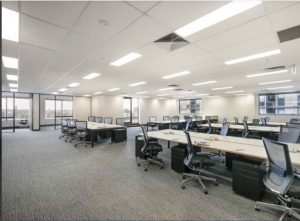 Coworking isn't just for startups and remote workers anymore. The recent years have shown a rapid growth in the industry as organizations of all shapes and sizes have discovered coworking office space and it's unique characteristics give enterprises customizable benefits and flexibility that traditional office space simply cannot provide.
The rapid evolution of coworking space – both in general and for large enterprises – the list of large corporations integrating flexible office space into its operations with teams working out of flexible workspace locations in various markets, is growing quickly. These five factors are driving the enormous shift towards flexible office spaces such as Victory Offices.
Business Dynamics
The fast pace of change on many industries in today's marketplace change very quickly means businesses have to follow suit to keep pace with a dynamic customer base and field of competition. Product launches and impromptu sales or project teams produce the need for speed and agility to address new market trends efficiently and effectively. Given the complexities of a traditional office space agreement that requires time, effort, and resources, a flexible space option is often a better choice when flexibility and time are at a premium.
Organisation Footprint
Many large corporations have massive footprints extending over several regions, countries, or even continents. If an enterprise has its headquarters in one region Asia but a growing customer base in another, it can quickly open a new office using flex space to meet the demands of those new customers. With customer service being so vital in the modern marketplace, an enterprise can pivot quickly to an ever- changing customer base to meet expectations effectively, all while enjoying up to 40% lower costs than traditional space.
Accounting & Valuation Benefits
Due to the significant changes to lease accounting in recent years, large public – and now private –  corporations must now list leases of one year in duration or longer on their balance sheets as a liability. However, they can still use flexible office space with short-term agreements – less than a year – without negatively impacting the balance sheet, and, thus, making their valuations potentially more appealing to investors
Commercial Real Estate Market
Large corporations tend to be particularly savvy at reading fluctuations in trends in the commercial real estate markets. If a local market is either nearing or at a peak, forward-looking enterprises will recognize that signing a traditional, longer-term agreement at the height of the market isn't their financial best interests. Instead, a flexible office lease allows them to either enter or remain in that market and wait for price points to move away from their peaks.
Talent Acquisition & Retention
Large corporations use flexible office space when they want to find and maintain specialized talent, often for development, sales, creative, or any number of roles. Coworking environments provide enterprises with the flexibility needed to cater to the individual needs of critical talent rather than expecting people to uproot their lives and relocate for a new job.
Schedule a free consultation with Victory Offices to assist you in finding the ideal flexible office space to meet your goals and find flexibility in your business today.