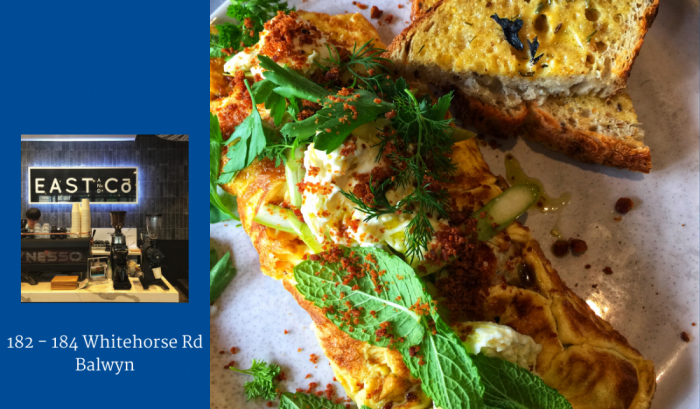 Leafy Balwyn recently welcomed the fabulous East & Co to the neighbourhood. Taking residence opposite iconic movie theatre The Palace, East & Co is a delightful addition to a retail stretch which has been a bit ho hum of late.
East & Co is a new venture for the owners of Lilydale's much-loved Hutch & Co, which I have to confess I've never visited. Its reputation well and truly precedes it because I hear it is every bit as fabulous as it looks and by all accounts it is very popular with the locals.
East & Co is housed in an airy space with high ceilings, polished concrete floors and a modern industrial vibe. The side wall comprises a superb modern leadlight window, made up of small panels of alternating clear, textured and opaque glass. It is absolutely stunning. There's a gorgeous marble counter, lots of black, white and grey with pops of natural leather, timber, metallics and striking ceiling greenery.
The day of my visit I was in need of some serious nourishment after a long morning of adulting of the highest order. Said adulting was so onerous I had skipped my usual breakfast smoothie and mid-morning coffee, so I was ever so slightly hangry. I was greeted by a friendly and accommodating staff member, who promptly seated me and brought a very large and very good flat white. My lunch date soon arrived and enjoyed an almond latte which she declared to be the best she's ever had.
Perusing the seasonal menu we were faced with lots of choice, not easy when you're hangry but otherwise, very pleasing indeed. Then a dilemma – order an old fave or try something new? Several dishes spoke to me. Breakfast Quesadilla, Spring Avo, Mushrooms on Multigrain or Spring Nourish Bowl – all with the option of several sides to go with? However, hunger waits for no woman, so I hurriedly chose a Folded Omelette with roast pumpkin, caramelized onion, chorizo crumb and Buratta cheese. Optional extras include a side of hot smoked salmon or bacon if the heart desires. Mine didn't so I ordered it straight up. My lunch date was counting her macros (yes really but who am I to judge?) so she kept it simple with poached eggs on sourdough and a side of bacon and cherry tomatoes. Both dishes were substantial – my omelette in particular was HUGE. It was really tasty and the flavour combo so good I wanted to finish it, but I just couldn't. Unusual for me but it speaks to the generosity and value of East & Co. No tiny serves here and I say hurray to that.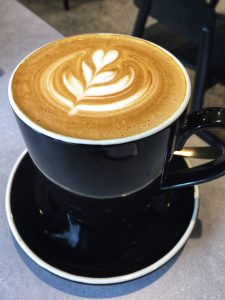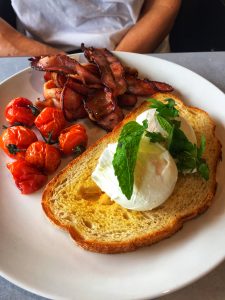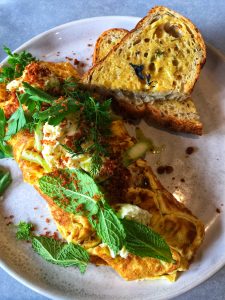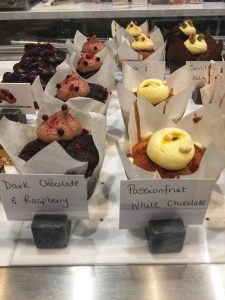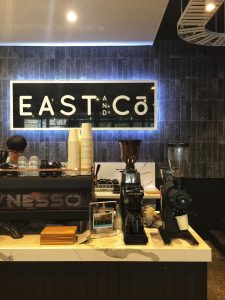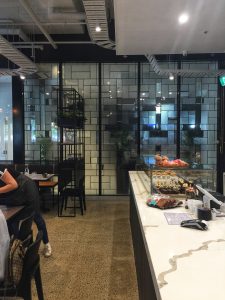 I thoroughly enjoyed my lunch at East & Co and I see many breakfast and lunch dates here in my future. If you're more of a coffee and cake kind of girl there's a selection of sweets to choose from too. When I return, I'll be trying the Spring Granola with strawberry labneh and the Croque Madame with truffle oil. Yum and Miam.
Service here is friendly, warm and genuine and the food and coffee are superb.
Welcome to our corner of the world East & Co, we're very happy to have you.
East & Co is located at 182 – 184 Whitehorse Road, Balwyn
Open Mon to Fri 7am – 4pm, Sat and Sun 8am – 4pm
November, 2019.