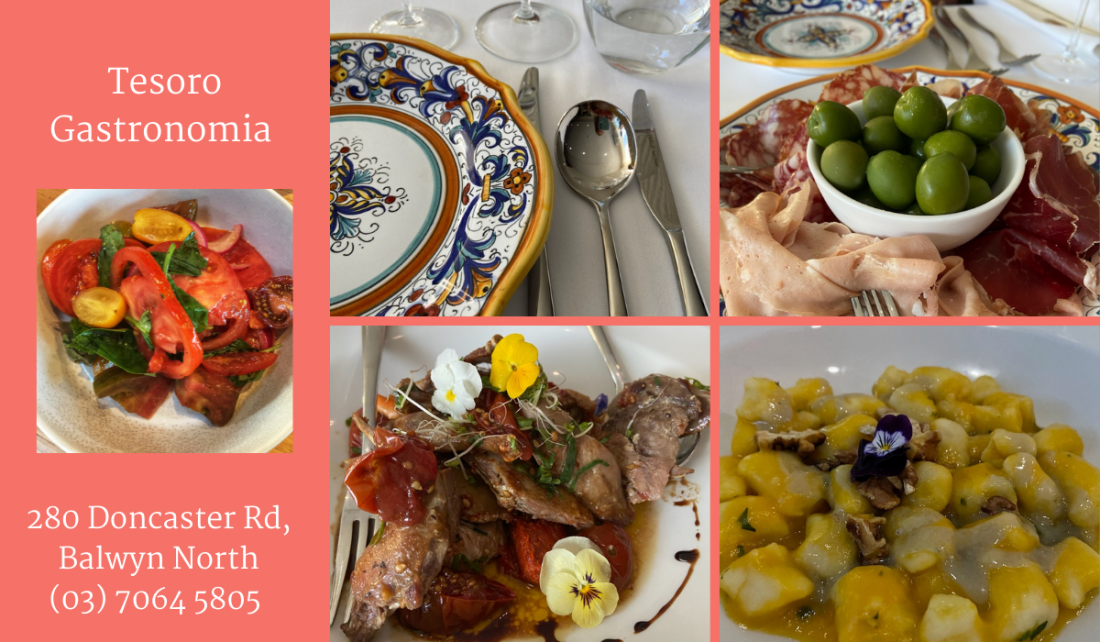 Tesoro, meaning darling or sweetheart is a little slice of Italy in the Eastern suburbs.
Women of Whitehorse were thrilled to be invited to dine at Tesoro recently. We enjoyed a delicious four course chef's tasting menu that changes weekly.  It's driven by fresh, seasonal produce and their extensive wine list was paired perfectly.
Tesoro is somewhat of a chameleon. By day it's a local trendy Italian deli, at night it transforms into an elegant Italian diner, all starched white napery and sparkling glassware, amongst a relaxed atmosphere.  Staff are the real deal, Italians who are proud of their heritage and appreciative of their inheritance and wanting to pay their legacy forward.  All profits are either donated to local charities or to sponsor artistic and community events. So you can embrace every moment at Tesoro, knowing you are helping others while you do.
They have a wide selection of imported and local gourmet products in their deli ranging from Sicilian Nocellara Olives to Caputo Flour, Pasta fresca e gnocchi to freshly filled Cannolo or soft Italian donuts baked daily filled with ricotta, pistachio, vanilla, chocolate, or apricot marmalade plus an espresso bar.
If you think this philanthropic venture might compromise the quality of the food offering, you'd be very much mistaken. Transporting us straight to the land of passion, it is quite evident that Tresoro is all about the food, which is prepared and served with love.
Starting with a traditional antipasto, we enjoyed tasty salumi, plump Sicilian olives and fresh bread. Served alongside, beautifully tender pieces of roasted quail with confit nduja – the spicy, spreadable Calabrian sausage.
Fluffy pillows of housemade potato gnocchi, served with a rich pumpkin cream, gorgonzola and crunchy walnuts were superb.
Our main course was tender nuggets of flavoursome beef cheek, braised and served with creamy potato puree and a simple mixed salad.
Little pots of refreshing pistachio Bavarian cream served with a glass of deliciously tangy limoncello were a fitting end to an unforgettable meal.
We departed with delicious complimentary pastries to enjoy later.  The extra touch of the parting gift was the icing on the cake.  Tesoro made us feel like we were guests and not just customers.
Tesoro Gastronomia is open for lunch 7 days a week and dinner from Thurs-Sat (seats 30). The chef's tasting menu is $80pp and with only one sitting each night you can enjoy a relaxed meal.
Buon appetito!
Located in the heart of the Greythorn shopping strip
at 280 Doncaster Road, North Balwyn, 3104
Ph: 7064 5805