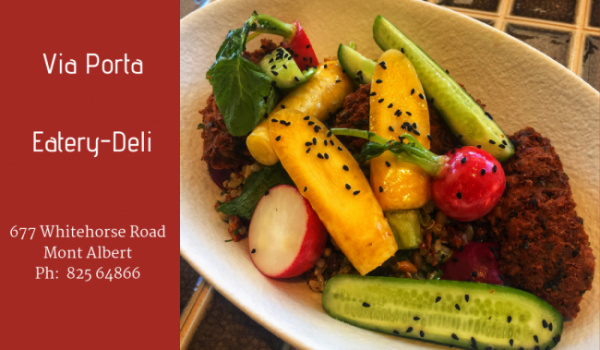 Via Porta Eatery-Deli Review
Since its opening in August, I've been keen to check out Mont Albert newbie Via Porta. From the street it has not surprisingly, a distinctly European vibe complete with outdoor seating and scalloped awning. The sparkly new venture brought to life by the same family team who owned and operated the bustling Mr Hendricks eatery in Balwyn, is part restaurant part deli. The space is stunning, decorated in a gorgeous muted palette of pink, brown and olive with timber and stone featuring heavily.  Recently featured on The Design Files, the eatery was designed by Sarah Consentino, one of four siblings who own Via Porta.
Beautifully curated vignettes of earthen ware vessels and artworks are dotted around the space, there's an olive-green banquette and eye-catching light fittings. The charcuterie counter is well stocked with all manner of deli meats and cheese, there are fresh take home meals in the fridge and shelves filled with olives, spices, fresh eggs and other gourmet offerings.
The menu is interesting and inventive, drawing on the European heritage of its owners and featuring ingredients such as broad beans, provolone, nduja and heirloom vegetables. I dined with a friend at lunchtime and we both chose lighter options from The Day Food menu. I chose the falafel with roast beetroot muhammara, grains, raw vegetable salad and pickled currant. For the uninitiated like me, muhammara is a traditional Middle Eastern dip made with roasted red capsicum. This beetroot version was so delicious, I could've happily eaten it on its own. The falafel were crunchy on the outside and fluffy inside, some of the best I've ever eaten, the accompanying grains also very tasty. Topped with a raw vegetable salad of heirloom carrots, radish and baby cucumbers which added freshness and crunch, I was one very satisfied customer. The dish was delicious. My friend decided on the roasted cauliflower, carrot and chickpea salad topped with hazelnut and pomegranate seeds. A substantial dish, she also declared it to be delish.
My coffee was excellent and there are freshly baked pastries and cakes made daily on the premises available, if you need to satisfy a sweet tooth. Via Porta is now licensed if you would like a cheeky glass of something with your meal.
If you haven't already, get yourself down to Via Porta stat and soak up the heady European atmosphere. You will not be disappointed.
Via Porta is located at 677 Whitehorse Road, Mont Albert
Ph 82564866
Open Mon – Sat 7am – 5pm and Sun 8am – 3pm
October, 2019.