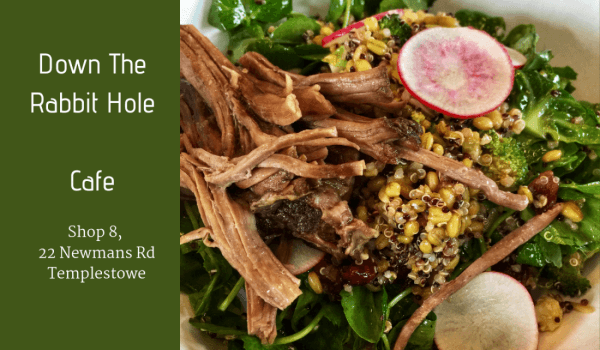 Down The Rabbit Hole Cafe Review
To find your way to the delightful Down the Rabbit Hole café you will need to wind your way down a leafy country lane. Or is it? As Alice discovered in Wonderland, things are not always what they seem. You are actually in the back blocks of Templestowe but it looks and feels a good deal more like Warrandyte. "Which way should I go?" Alice famously said to The Cheshire Cat. If Lewis Carroll penned Alice in Wonderland in 2019 I'm almost certain the cat's response would be "Never mind Alice just get thee to Down the Rabbit Hole asap and try some of their delicious offerings!
I've now dined at DTRH three times and each time has been equally impressive. The menu is extensive and on a recent visit our party of three all struggled to make a choice (hashtag FOMO) between the many breakfast and lunch offerings. We eventually settled on the Brisky Business, Supercharged Salad with the addition of a protein (in this case beef brisket) and the Croque Monsieur because who can resist a classic? The Brisky Business was in fact THE business – basically a burger of sorts with a slab of beef brisket sandwiched in a Turkish roll with slaw, cheese, gherkin and a side of chips. The brisket itself was beautifully cooked, resulting in a juicy, tender meat. The salad was apparently every bit as tasty as it looked, my friend singing its praises. The dish comprised a generous portion of flaky brisket sitting atop a winning combo of ancient grains and cruciferous veggies with a merlot dressing. The Croque Monsieur, or 'toastie', for the Ozwegians among us, was luminously golden with melted cheese and béchamel sauce. Tres bon, merci.
All of the portion sizes were generous and the prices reflect good value for money. There is a fun kids menu for the mini's featuring Coco Pops, egg and soldiers and some other favourites.
The space is light and bright, fitted with polished concrete flooring and geometric blonde wood panelling, lending a bit of a scandi vibe. Service is warm and efficient, coffee is very good and there is a small wine, beer and cocktail list if a cheeky something is on the cards.
Next time I venture DTRH I'm trying one of their Bronuts, with a variety of flavours freshly baked each day on the premises. For the uninitiated, a bronut is a brioche donut which frankly sounds like a match made in heaven to me. I've also earmarked Beyond the Rabbit Hole, TFC sliders, Maxijohn and Saffron Ricotta Gnocci for my next visit (or three).
Down the Rabbit Hole is open Mon- Fri from 7am – 4pm and Sat from 7.30am – 4pm. For the very early birds there is also a takeaway window open mornings from 6am.
In the very middle of the court was a table, with a large dish of tarts upon it: they looked so good, that it made Alice quite hungry to look at them–'I wish they'd get the trial done,' she thought, 'and hand round the refreshments!' – Lewis Carroll, Alice's Adventures in Wonderland.
September, 2019.