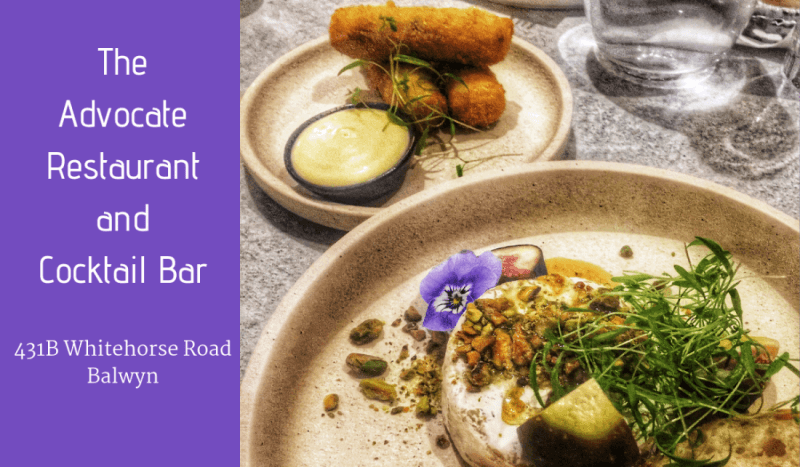 The Advocate Restaurant and Cocktail Bar Review
Women of Whitehorse was thrilled to procure a booking for the recent opening night of new restaurant and cocktail bar The Advocate Located in Balwyn, The Advocate is dedicated to owner Jane Gorman's youngest son Christian, who is currently in his final year of a law degree. Jane is a successful interior decorator/designer who has created a stunning bespoke interior inspired by the English common law legal system and her travels to Britain.
The Advocate is an opulent space reminiscent of a London wine bar. Lavish finishes include banquette seating, black velvet bar stools/chairs, crystal glassware, mirrors, candles and plenty of ambient lighting. Soft furnishings, including carpet, help to create a cosy, intimate setting conducive to enjoying delicious food, fabulous cocktails and great conversation.
WoW started with a round of drinks from the cocktail menu, ordering the Blueberry Cosmopolitan, Hemingway Daiquiri and Winter Apple cocktails. Served in elegant crystal glasses they were both pretty and tasty in equal measure. WoW also has it on good authority (thanks Jodie for the hot tip!) that The Garden Party Mule, served in a gorgeous copper tankard, is also worth a try. To follow our cocktails we ordered a bottle of the Indented Head chardonnay which was an excellent pairing for our food selections and definitely worth considering if you are a chardonnay lover. As you would expect at a venue providing an English experience, there is also a wide selection of beers, ciders, whiskeys and gins on the offer.
We ordered a variety of small, large and side dishes from across the menu to share among our group of three. Starting with the chorizo croquettes, pork belly, Brussels sprouts, broccolini with salted ricotta and baked brie with truffle honey and caramelised figs; we finished with a selection of cheeses and a decadent chocolate and salted caramel dessert with Pedro Ximenes and honeycomb. All of the food was absolutely delicious and we enjoyed everything we ordered. The standout dish for me was without doubt, the baked brie. The combination of flavours was sublime and the subtle aroma of the truffle infused honey was perfection on a plate. A little more bread with which to eat said cheese was the only thing I would have changed. When I next visit The Advocate I plan to try the gnocci with wild mushroom and sorrel, chicken ballotine and the goats curd with olive sourdough. The baked ricotta with raspberry, rhubarb and pistachio has also piqued my interest.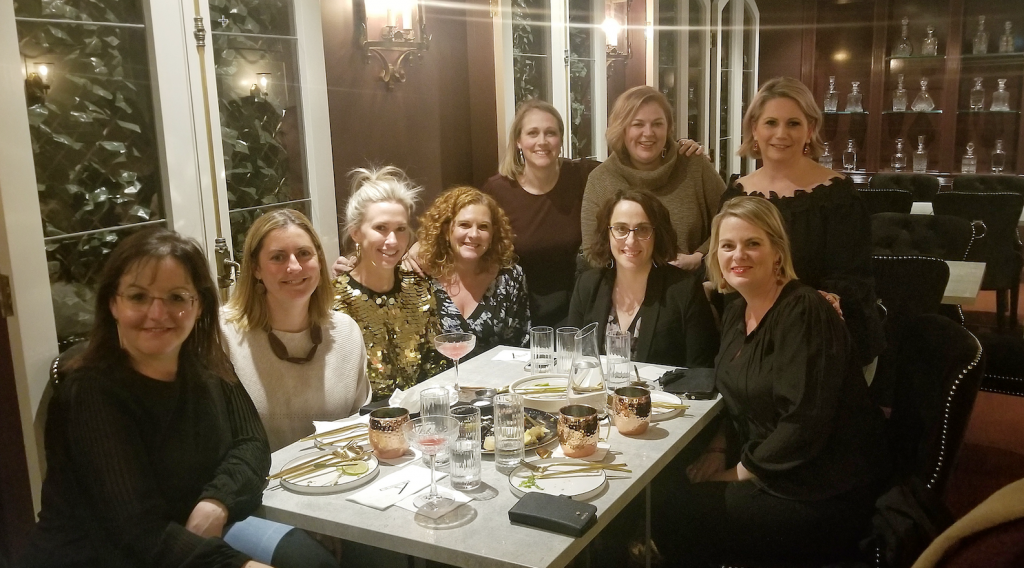 Overall, we had a really wonderful night at The Advocate. The service was warm and friendly and the atmosphere sophisticated yet festive. It is always fabulous to have a new option for dinner with the girls, a date night with your partner or a cheeky afternoon drink with friends. I think you'll enjoy The Advocate, make sure you check it out.
You can find The Advocate at 431B Whitehorse Road Balwyn. Open Tues 5pm until late and Wed – Sun 12pm until late.
August, 2019.