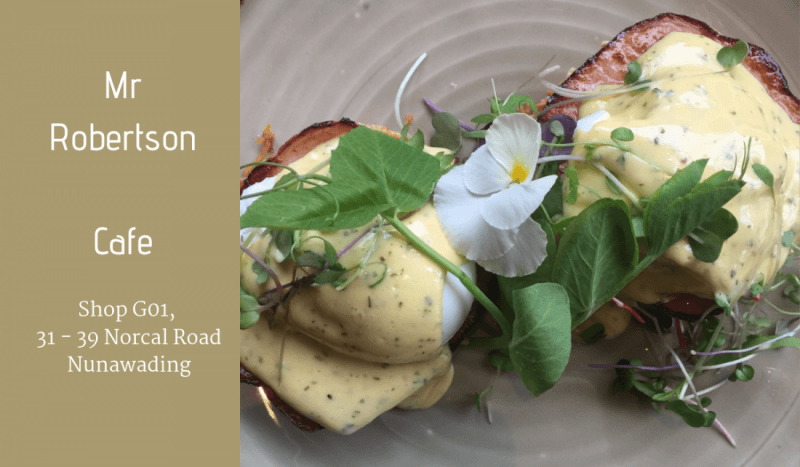 Women of Whitehorse was excited to be among the first to visit new local Mr Robertson, a sparkly new café now open for business. Brought to us by the team behind the very fabulous Mister and Miss in Surrey Hills, Mr Robertson is all timber, glass, concrete and terrazzo. The colour palette features greys, browns and black with a striking potted olive lending a pop of green at the entrance. The space is large and there's a mixture of banquettes, chairs, booths, indoor and outdoor seating depending on your preference. There are external shutters coming soon so I predict brunches on the deck come Spring/Summer. The modern industrial fit out is very much in keeping with the location which is at the front of a large industrial estate in Nunawading. Their signage is arriving next week so in the meantime use your GPS and keep your eyes open or you'll blink and miss it!
So you may wonder, who is Mr Robertson in this scenario? Owner, chef, relative, resident coffee machine? It turns out the name pays homage to the former Daniel Robertson brickworks site in Station Street, the chimney of which is protected by a heritage overlay and remains standing at the site opposite the café.
Anyhow, I digress. Back to the new Mr Robertson. The menu is comprehensive and includes a good choice of breakfast and lunch offerings including a well-priced, albeit short, kids' menu. Expect to find plenty of savoury options – potato rosti, baked eggs, a selection of omelettes, zucchini and cauliflower fritters as well as pancakes with or without a side of bacon and home-made granola. There's also a wide selection of breakfast sides you can add to your meal if you so choose. Did someone say haloumi? Lunch offerings fall into three main categories – pizzas, salads and burgers, as well as chicken parma, a steak sandwich and crispy Atlantic salmon. At the counter a tempting selection of fresh muffins, tarts and pastries will please those looking for a lighter option or the perfect pairing for a coffee.
Today we ate from the breakfast menu. I chose the potato rosti with bacon, poached eggs and hollandaise sauce and my breakfast buddy chose the fritters served with bacon and avocado. My rosti were delicious and crunchy on the outside, light and fluffy on the inside, the eggs were cooked perfectly and the bacon, well….BACON – need I say more? The fritters were also enjoyed and both dishes were beautifully presented and the serves hearty. My flat white was excellent and there is cold drip coffee and a selection of teas available if that is your thing. The staff were warm, friendly and responsive and prices are on the money (pardon the pun).
It was great to finally meet you Mr Robertson, I will definitely see you again soon.
Mr Roberston is located at Shop G01, 31-39 Norcal Road Nunawading
Ph 88713722
Open 7 days a week and available for functions.
June, 2019.