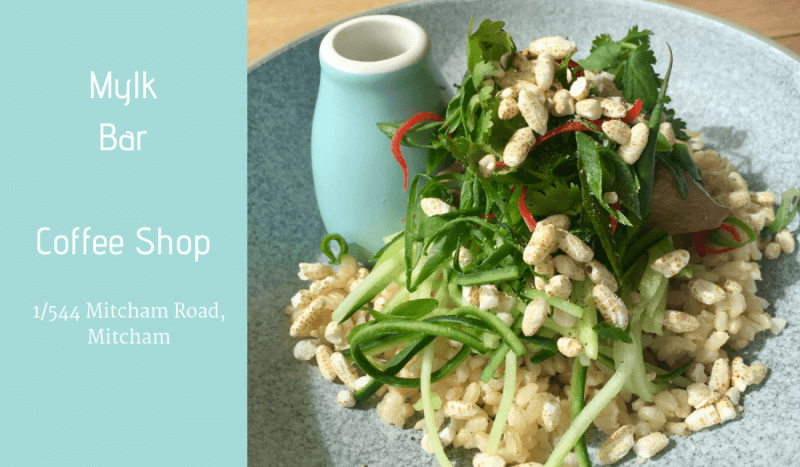 Mylk Bar Mitcham – Cafe Review
A recent visit to a small milk bar settled in Melbourne's leafy east was a pleasant surprise. Located on a sun drenched corner at the end of Mitcham's Rangeview shops is the new Mylk Bar. A new take on the old and no doubt at some point in the past it housed the type of milk bar that is the stuff of a quintessentially 80's Aussie childhood. I'm talking about Barney Bananas, eggnog Big M's, Chiko rolls, rows of lollies and crinkly chip packets. Ah the milk bar….
Anyway, I digress and progress is progress friends. Long gone are the Twisties, Mylk Bar's new incarnation is as a café with a heavy emphasis on healthy and nourishing meals in a bowl. A lot like a Poke Bowl (pronounced POH-keh for those like me who've been referring to it as a POKE bowl) the Norish Bowls are a savoury option featuring various and delicious proteins, veggies and grains in a bowl with a drizzle sauce to bring it all together. The fruit based Smoothie Bowls will satisfy those with a sweet tooth.
If your preference is for traditional café fare, there is a small breakfast selection, including a Breakfast Bowl with all the trimmings and a pint-sized menu for the kiddos. If you are lunching, a choice of rolls and sandwiches are available – hello lobster roll. The coffee is consistently great and there are some pastries on offer too. To remind you of the good old days, in a slight nod to the past you'll discover a curated range of nostalgic lollies in the sweets cabinet.
I dined with a girlfriend and we both chose a Norish Bowl. I chose the Peking Duck, said friend chose the Bad Boy. I'm happy to report my bowl of deliciousness was an absolute delight. Tender slices of duck, chewy sushi rice and bok choy generously sprinkled with puffed rice and hoi sin masterstock to drizzle. One word – yum. Meanwhile the Bad Boy was a contemporary take on the classic British fry-up. Handmade sausage, pickle, house baked beans and bacon crumble with yakisoba sauce. Apparently also yum and probably a bit more substantial than the duck bowl. Other options include Vegan, Thai Thai (chicken, Asian slaw and toasted peanuts), Cured Salmon or Mexican bowls. I'm planning on several return visits so I can eat my way through the Norish Bowl menu.
Mylk Bar is definitely one to add to 'the list' and is open daily from 7am – 4pm.
June, 2019.