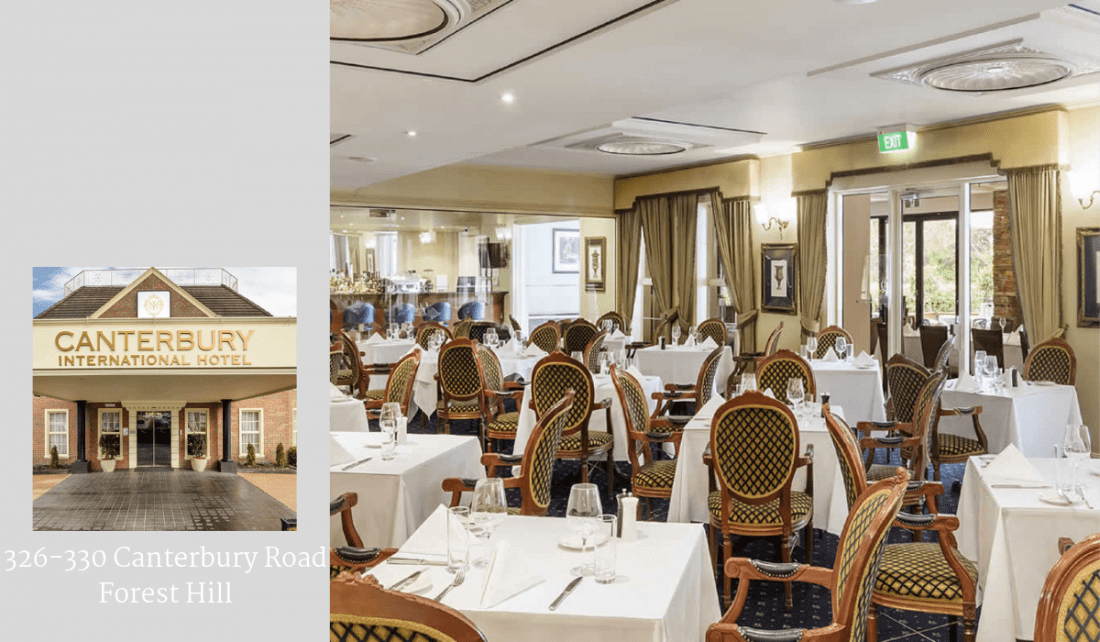 Hotel Review: The Canterbury International Hotel
Women of Whitehorse were recently invited to dine at Oliver's Restaurant at the Canterbury International Hotel. Oliver's is the type of place our parents took us for a 'nice meal' back in the day. It feels absolutely timeless. There's not a subway tile or a canister of Himalayan rock salt in sight. The space is roomy, quiet and a tad well….fancy. Tables are dressed in white linen, wait staff wear black and white, music is low and the cutlery and glasses are fabulously shiny. There is a definite sense of occasion about the place. Dining at Oliver's makes one feel like a grown-up.
The day we visited we ate from the festive lunch menu, where for $42 per person you can select two courses from the menu, comprising four entrees, four mains and four desserts. This price also includes a glass of house red or white and a coffee or tea. If the mood takes you, treat yourself to a rather indulgent three courses for an extra $10.50 per person.
My lunch guest and I decided to order an entrée and a dessert to share in addition to our main courses. In terms of entrees we didn't hesitate to choose the heirloom tomato and goats cheese tart with roast pepper sauce and rocket salad. The pastry was crisp and puffy and the filling tasty. The roast pepper sauce was the highlight for me, in fact I would've loved a bit more on the plate!
My vegetarian, non-fish eating friend chose the only main option available to her, a risotto with pumpkin and sweet potato, cherry tomatoes, peas, parmesan and rocket salad. As risottos go, it was well seasoned, creamy and a VERY generous serve – so large in fact that she was unable to finish it. Said friend, who is a more than capable maker of risotto and excellent cook, thought it was a tasty dish, although did question if the addition of both pumpkin and sweet potato was necessary.
As for me, given it was the festive season and I'm a bit of a sucker for a traditional Christmas roast, I decided to order the stuffed roast turkey with "all the trimmings". Read ham, roast potatoes, carrots, broccoli, cauliflower, brussels sprouts and the most delicious, rich and flavoursome gravy I could've asked for. I enjoyed everything on the plate.
When ordering dessert we couldn't go past the classic lemon tart with honey whipped ricotta and berry coulis. We were also kindly offered a vanilla panna cotta to try. I enjoyed the lemon tart, but the highlight for me was the panna cotta. The texture was fabulous – creamy and light and the vanilla flavour was subtle and unobtrusive.
Other items on the menu that caught my eye were the smoked salmon remoulade, Black Angus porterhouse and a Gianduja chocolate cake. Obviously the menu is seasonal so expect to see some different but no doubt equally appetizing options when you visit.
The wait staff were delightful and we felt unhurried and relaxed. It's not always easy to achieve attentive and friendly without being obtrusive, but they certainly nailed the brief.
Thank you for having us Oliver's, we will definitely be back. Next time I'm bringing my mum.
https://canterburyinternational.com.au/dining/olivers-restaurant/
February, 2019.