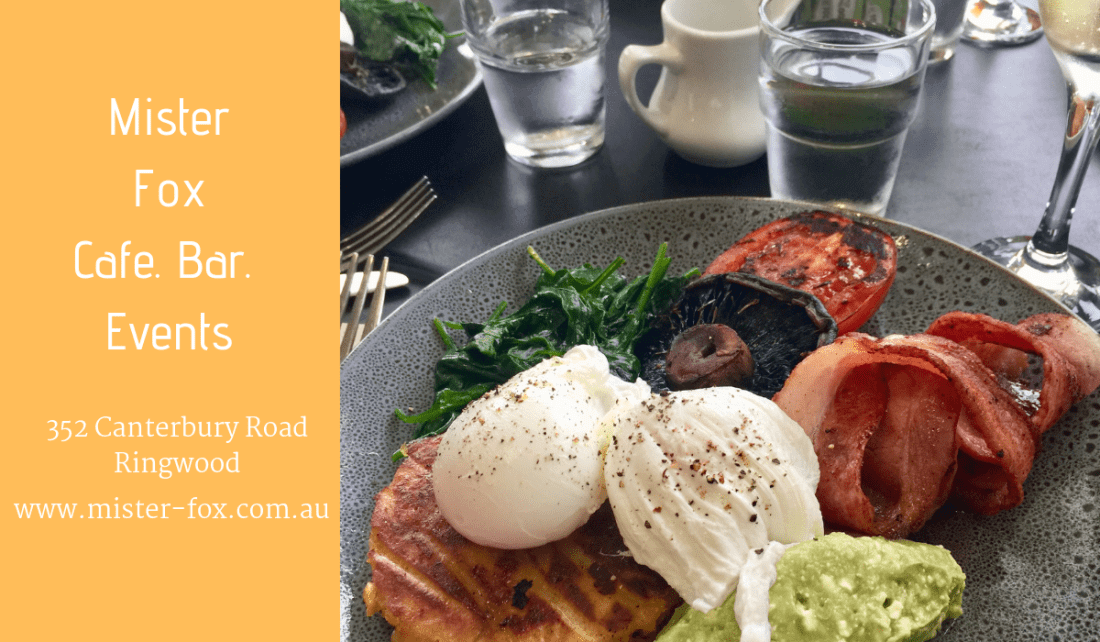 Mister Fox – Ringwood. Cafe Review
Situated at Ringwood golf course in Melbourne's east, you'll find resident cafe Mister Fox. Featuring spectacular vistas across the green and an equally impressive menu, Mister Fox is a great place for a cheeky catch up with friends or a post-game round of drinks. The hero of the space is the view of the golf course courtesy of floor to ceiling windows. The café itself is simple and unassuming. Not surprisingly, the menu and décor feature lots of references to our canine (or are they?) friends. Nice one Mister Fox.
Open daily from 7.30am – 4pm, there are indoor or outdoor dining options, depending on how close to the action you prefer to be. On our recent visit we had pole position next to the window and enjoyed watching golfers teeing off whilst we ate. Nothing like living vicariously. The menu features plenty of options for breakfast, lunch and in between, both freshly cooked, as well as a selection of wraps, paninis, toasties and sweet offerings 'from the cabinet'.
If you're after something a little stronger than a coffee, which is excellent by the way, you'll be delighted to know there's a good choice of craft beers, wine and bubbles available. Only fitting really, it is a golf course after all.
I must confess I had a touch of food envy the day of our visit. I was eyeing off the birthday girl's vego choice – The Well Nourished Fox. It looked colourful, nourishing and did I mention haloumi? Two of us chose the tasty and very generous Fox in the Veggie Patch while our other (apparently ravenous) friend decided on Bigger than a Fox, almost Wolfish. And wolfish it was. I'm talking the whole shebang. If you like your brunch a little on the sweeter side, give Sticky Paws a go. Candied orange waffles, chocolate sauce, nutella marscapone and jaffa crumble. Or for those who like their brunch a little healthier try a Breakfast Salad, For Fox Sake.

Either way, by all accounts everything we ate was delicious, serves were generous and prices are really reasonable. Teamed with a glass of sparkling, a bunch of good friends and a killer view, Mister Fox is well worth a visit for your next catch up.
March, 2019